Upcoming Dates and Reminders-
9/21 Monday PJ Day, Gym
9/22 Tuesday Silly Socks, Art
9/23 Wednesday Crazy Hair, Steam
9/24 Thursday Hat Day (Walkathon), Music
9/25 Friday Maize & Blue day, Gym
9/30 Book Orders due
Thank you so much to all those that have donated to Walkathon.  I'm excited at the progress our class is making and can't wait to walk with your children next week.
---
Mystery Readers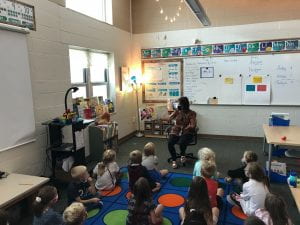 Mrs. Elders, our first-grade paraprofessional, was our Mystery Reader this week. Sign up for a "Virtual Mystery Reader" slot by clicking this link. Thank you for supporting our little readers.
---
Scholastic Book Orders
Connect to Our Class Page: https://orders.scholastic.com/QQJNN
Class Code: QQJNN
Shop the flyers with your child: https://editions.mydigitalpublication.com/publication/?i=667327
Class Order Due Date: 09/30/2020
Paper flyers were sent home Thursday.  All books ship to the class, and I hand them out to the kids to take home. Thank you for encouraging the love of reading!
---
Celebrations-
Star of the Day – Four new friends were Star of the Day this week- Ryan, Abbey, Violet, and Connor. Each got to be the line leader and sit at the teacher desk!
Quote of the Week –  This week's quote went to Anastasia. She worked really hard on her listening skills and trying to improve them this week.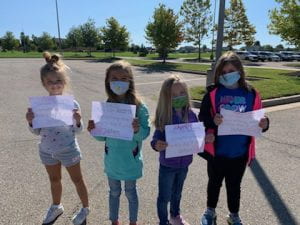 First Grade Family Time –  At the assembly, we celebrated our learning, give awards for the quote of the week, along with awards for lost teeth, shoe-tying, & birthdays from the week. Here are our "award-winning" first-graders from today's family time.
---
OUR LEARNING:
Reading– We got our reading partners and book nook spots this week.  We also started learning about how readers create good habits like taking a sneak peek and what to do when we get to the end of a book.
Writing – We started writing small moment stories.  We planned them out by thinking of ideas, touching the page, saying our ideas out loud, and then sketching pictures to help us remember what we want to write.
Math –  We continued to work on identifying number partners (pairs) for numbers 1-10. We even did chalk math outside!
Social & Emotional – Little Penguin joined our class this week and we worked on some different breathing exercises like pizza breathing and star breathing.
Word Study – Rasheed the Lion joined our class too! We all looked at our names and pointed out what we noticed, syllables, vowels, blends, digraphs and the different sounds all the letters can make. We went on a word hunt around the class to notice words and letters.
---