TUTORING- If you are interested in summer tutoring for your child please contact one of our excellent tutors below.  Most of them will be holding sessions here at GES.
Bethany Gates (2nd Grade Teacher) bgates1@hpseagles.net  (Tues/Weds)
Abbi Garrison (4th, previous first-grade teacher) agarriso@hpseagles.net (Weds)
Karyn McIntire (Instructional Paraprofessional) kmcintir@hpseagles.net (Mon-Thurs)
Achieve Tutoring, Jenison; 616-916-8989
---
Upcoming Dates and Reminders-
📞 I'm about halfway through end-of-the-year phone calls so if you haven't gotten one, expect one next week. 🙂
We are planning an end-of-the-year Family Picnic for June 2nd at 6:00, Location TBD.
Monday, May 17- Music
Tuesday, May 18 – LAST Library ALL BOOKS DUE TODAY, PE
Wednesday, May 19- Art
Thursday, May 21- STEAM
Friday, May 22- Early Release, STEAM, Ice Cream Party
---
Mystery Reader-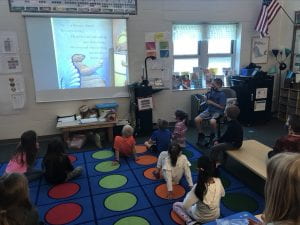 Our mystery reader was a 2nd-grade student from here at GES. He wanted to come read with a friend on his bus.  What fun!  We got to ask him questions about what second grade will be like!  All Wednesday Mystery Reader slots are full but I am still happy to squeeze anyone in that is interested.  Please let me know.
---
📚 Scholastic Book Orders  
The last one! Due next week! Thank you so much to all who ordered this year.  We were able to purchase so many more great books for our class.  There is an option to have it shipped to your house. As soon as you create/pay your "send to my house order" it will finalize and ship to you. Otherwise, it should arrive at the end of May or the last week.
Connect to Our Class Page: https://orders.scholastic.com/QQJNN
Class Code: QQJNN
Class Order Due Date: 5/19/2021.
---
Celebrations-
Star of the Day – 10 new friends were Star of the Day this week- We have been sharing heart notes with each other, writing what we love about our friends! Skyler, Ryan, Cambry, Lucy, Carmel, Xander, Connor, Palmer, Evert
Quote of the Week –  This week's quote went to Mrs. Blauwcamp.  She recently injured her foot and was very brave about it. 
First Grade Family Time –  At the assembly, we celebrated our learning, gave awards for the quote of the week, along with awards for lost teeth, shoe-tying, & birthdays from the week. Here are our "award-winning" first-graders from today's family time.
---
OUR LEARNING:
Writing – Students wrapped up their realistic fiction series for our From Scenes to Series unit of study! This week we focused on using correct punctuation and using illustrations to tell important details. We learned that writers can use illustrations to give clues about the setting, bring characters to life, tell secrets to the reader, and add extra realistic details. 
Word Study – We'll be spending these last few weeks reviewing some of the most important foundational skills that our first graders need to know in order to be successful second-grade readers and writers. This week, we practiced sorting long and short vowel sounds. For example, "cut" has a short vowel sound, and "cute" has a long vowel sound. 
Reading–  This week we wrapped up our Meeting Characters and Learning Lessons Unit. We worked on learning lessons from our books and talked about how the lessons we learn in a book can be like a fortune from a fortune cookie.  We made comparisons and practiced giving our opinions about the books we have read. We will end the year with a review of non-fiction books.
Math- We continued learning about shapes this week, and the kiddos learned the names of some 3D shapes as well: sphere, cylinder, rectangular prism, cone, and cube. We also learned how we can put both 2D shapes and 3D shapes together to create new shapes. Towards the end of the week, we started studying measurement and what the words longest and shortest mean. We practiced putting items in order from shortest to longest and vice versa. On Friday, we learned we can measure things with length units such as paper clips. We took a quiz over both shapes and measurement this week, and we will be taking our unit 7 test next week.
Social-Emotional–   This week we talked about bullying and also reviewed tattling vs. telling.
---
Our reward for earning our class outstanding this time was teacher swap! Mr. Waldie got to come be our teacher for a half-hour this morning and Mr. Cooley got to come teach us reading this afternoon.  We ended this time by reading with the same buddies we read with at the beginning of the year.  This time WE read books to our buddy.  We were so proud to show them how much we have learned this year and to be able to read to a fifth-grader was pretty cool!!  I was one proud teacher!