Upcoming Dates and Reminders-
Monday, March 1- PE
Tuesday, March 2- Library, Art
Wednesday, March 3- STEAM
Thursday, March 4- Music
Friday, March 5- Art,    Early Release- Pizza Ranch Retell Day
                                          🤠 Wear a cowboygirl hat, bandana, or handkerchief.
March is Reading Month- I will NOT be sending a separate reading calendar.  Just have your child continue to fill out our baggie book calendar and I'll use that to give them raffle tickets for our school-wide prizes.  Wednesdays will be read and feed days where the PTC will be providing us with snacks! 😃 Fridays will be dress-up days.
---
Mystery Reader-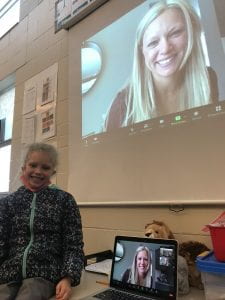 This week Skyler's mom, Mrs. Boersen read us There Was a Coyote Who Swallowed a Flea. Sign up for a "Virtual Mystery Reader" slot by clicking this link.
---
Celebrations-
Star of the Day – Five new friends were Star of the Day this week- Ella, Jason, Madelyn, Hazel, and Violet.
They were able to bring a book to share with the class if they wanted. Next week will be Anastasia, Riley, Kennedy B., and Skyler.
Quote of the Week –  This week's quote went to Ryan.  He had a great week and put in a lot of effort with a great attitude.  He comes to school every day ready for a fresh start. 
First Grade Family Time –  At the assembly, we celebrated our learning, gave awards for the quote of the week, along with awards for lost teeth, shoe-tying, & birthdays from the week. Here are our "award-winning" first-graders from today's family time.
---
OUR LEARNING:
Writing – We began our final bend, book reviews! Students picked their favorite books and started writing convincing book reviews. 
Word Study – Our "vowel team" chart is filling up quickly! This week, Rasheed returned from his construction visit and reminded us that just like buildings can be made from different materials, words can be made from different vowel teams, too. We learned about the different sounds of oo. 
Reading–  We tried making movies in our minds as a strategy to help us think about what is happening in the book. Focusing on who's talking in our book, we looked at dialogue. We made sure we were reading the best words and getting the job done quickly. 
Math- We practiced counting on with 2-digit numbers from a decade number, non-decade number, and into the next decade. We also learned some methods to help us add 2-digit numbers. We will continue to practice these skills as we prepare for our test next week!
Social-Emotional– We LOVE that our focus this month is Kindness.  This week we encourage you to discuss Random Acts of Kindness and ways your child can be kind at home with your family and your community!
Black History Month- This week we wrapped up our learning about influential Black History Month Leaders.  We learned about Jesse Owens, Bill Russell, Bessie Coleman, Thurgood Marshall, and Gabby Douglas.
---